TuffCorXL is our large road sign. This style road sign is the most popular large campaign sign style. These are made from Tuffcor, the same lightweight, yet durable, corrugated plastic sheet that we use for TuffCor yard signs. The signs are completely weatherproof and reusable.

To keep prices low and ensure your happiness with the product, these signs are only offered single sided. The reason for that is because like large billboards, these signs usually need to be mounted on a framework which will partially cover up the back. And in situations where the sign is supported only on both ends, show-through can be a problem on double sided large campaign signs. If you need the sign to be visible from both sides, you would simply order two single sided signs and mount them back to back. The price for a double sided sign would not be substantially less than ordering two, if we offered them.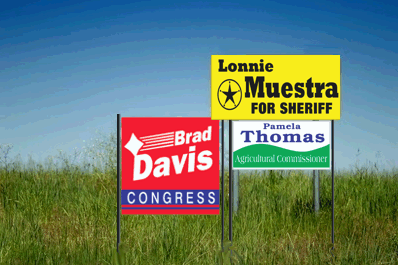 Although these are big signs, installation is surprisingly simple with minimal hand tools. A post hole digger, drill and staple gun or just a hammer and possibly a saw is really all that's needed. Recommended installation instructions and a detailed materials list with part numbers is included.

TuffCorXL comes in these standard sizes: 2'x4', 4'x4', 2'x4' and the popular 4'x8'.

* For your convenience, signs larger than 2' high are scored and folded in half or cut in half for shipping. The reason we now do this is to be able to ship the signs in a box by a small package carrier instead of having to ship them by motor freight (18 wheeler) which is very costly, takes longer, and you're left with a huge pallet that you can't get rid of. This also makes installation a breeze as the two pieces panel together easily. Customers love that large signs can now be transported easily in many cars and SUVs with a seat folded down instead of having to rent a truck.

It's important to get the design right so they're effective! Take advantage of our FREE, no-obligation, expert design service. 

Get Started!
You can request a FREE design layout and proof either before or after you place your order. If you would like to see your proof before you place your order, we will gladly process design & proof requests before you order for eligible customers (verifiable political campaigns, businesses, organizations and events).

However, if you order first, your design request will move to the head of the line and will be processed with top priority. If you need your order urgently, ordering first is the fastest way to proceed. Not to worry, even if you order first, your order won't go into production until you approve your proof.