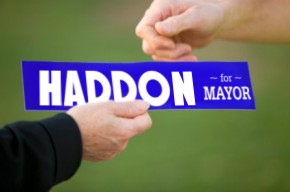 Bumper Stickers
Bumper stickers have long been a popular item for effective advertising, promotional giveaways, fund raisers, politcal campaigns, and getting the word out about a band or a particular cause.

The sticker material is a semi-gloss or glossy pressure-senstive film. They maintain their brilliant color for about 2-4 years outdoors in a harsh climate.

Rocket Signs makes ordering bumper stickers easy and has recently simplified the process even more!

There are four standard sizes. And they can be cut in half if you want half-sized stickers.

And there are also two grades.

Economy: Features a one color imprint on a wide variety of colored stock. Artwork and copy is restricted for lowest cost.


Unlimited: Features a full color imprint and unrestricted artwork, including photographs, for a just a little more. This grade has a lower minimum order.


Check out bumper stickers in the online store for prices.